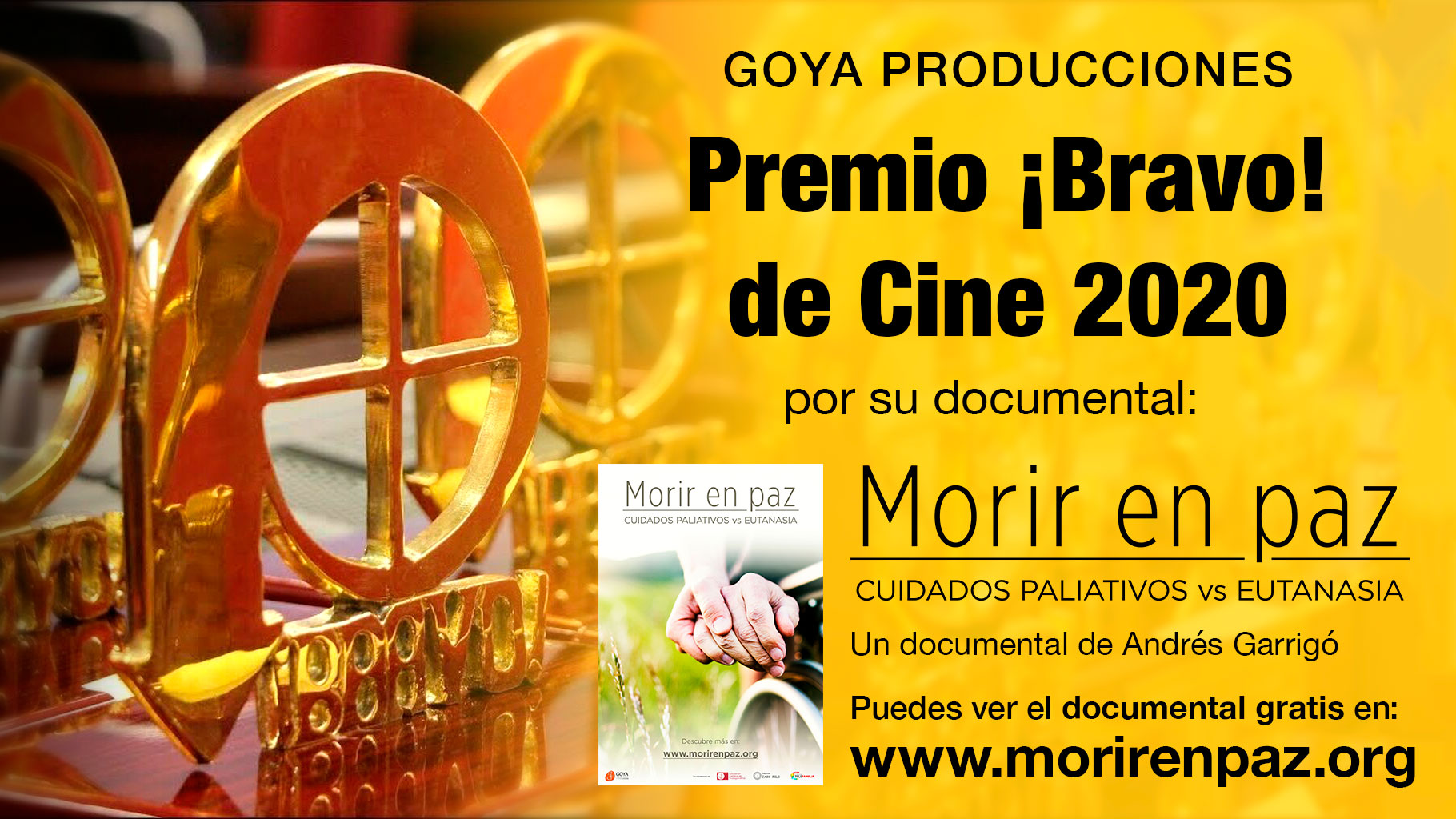 10 Dec

Bravo! award 2020 in the cinema category goes to Goya Producciones for the documentary "Die in Peace"

Madrid December 3. The Spanish Episcopal Conference (SEC) has granted its annual Bravo! Award 2020 in the category of cinema to Goya Producciones for its documentary "Die in Peace: Palliative Care vs Euthanasia", directed by Andrés Garrigó. The jury voted unanimously.

With these annual awards the Church recognizes "the meritorious work of those communication professionals in the various media, who have distinguished themselves by serving the dignity of man and evangelical values."

In this case, in addition to the high quality of the documentary, the jury was also aware that this year Goya Producciones celebrates the 20th anniversary of its foundation, and thus wished to show its appreciation for its long history of production and distribution of audiovisual Christian content.

"The documentary Die in Peace: Palliative Care vs Euthanasia", comments Garrigó, "is a beautiful evocation of the value and dignity of life in its last stretch. It shows, with shocking testimonies, how palliative care allows today to die without pain, without anguish or loneliness, in a loving environment, and in many cases it facilitates reconciliation with God and others. Euthanasia is a sad denial of all that ".

The Jury was chaired by the Bishop of Cartagena, José Manuel Lorca. Other members of jury were, among others, the director of the Ecclesia magazine, Silvia Rozas; the director of the BAC, Jesús Pulido; the editing director of Cadena COPE, José Luis Restán, Juan Orellana, director of the CECS Film Department. José Gabriel Vera, director of the Information Office, acted as secretary.

The Bravo! 2020 awards ceremony will take place on January 27th, 2021.