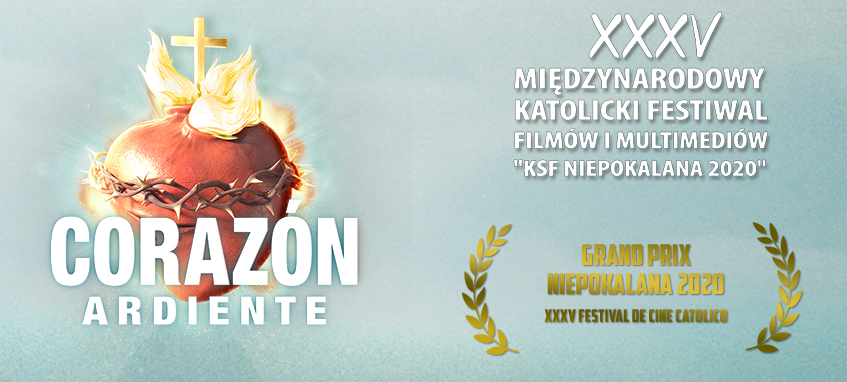 05 Oct

Corazón Ardiente gana el Grand Prix del Festival Internacional de Cine Católico

Warsaw. The movie "Corazón Ardiente", directed by Andrés Garrigó and Antonio Cuadri, starring Karyme Lozano and María Vallejo Nágera, has been awarded with Grand Prix – main prize – of the XXXV International Catholic Film Festival "Niepokalana 2020" held in Warsaw, Poland.

The Festival jury considers that "the film presents very well and in an original way the truth about the devotion to the Sacred Heart of Jesus, as well as a great generosity of the hearts of faithful who have adored God over the centuries" .

The jury, in which no Spaniards appear, adds that this film "discovers to the world of today the fact that the cult of the Sacred Heart of Jesus does not only belong to history, but it continues being a great hope for the contemporary man."

"An Ardent Heart" was released in Spain shortly before the pandemic with an initial success, but the exhibition was interrupted by the closing of cinemas. However, in Poland the film had a wide tour in cinemas, remaining several weeks in the Top 10, and managing to reach the second place among the best seleling films after one of Disney.

In America, the premiere of the film was scheduled for September, starting in 140 theatres in Mexico and continuing in the other Latin American countries, but it has been postponed due to the pandemic. In the United States, it is very likely that the movie could be released in November.

On the other hand, the producer of the film, Goya Producciones, announced that it had started shooting of a new feature film based on real events of the life of Mother Petra of Saint Joseph, founder of the Congregation of Mothers of the Foresaken. This new film, directed by Pablo Moreno, started filming in Barcelona and will continue in Andalusia and in Ciudad Rodrigo at Contracorriente´s studios, the co-producer of the film.